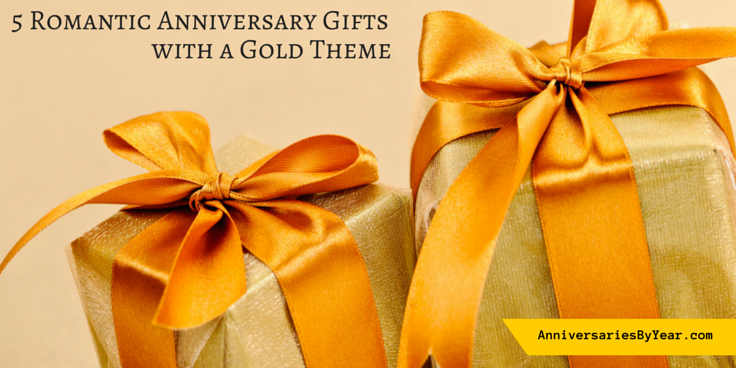 Five Romantic Anniversary Gifts with a Gold Theme
Share this site with:
Facebook
Google+
Pinterest
Wedding anniversaries should always be marked with a special gift, but with so many gifts to choose from, it can be tough to find the right one for your beloved. Some couples follow the traditional list and others prefer to choose gifts with a more modern theme. Either is perfectly fine and your spouse is sure to be appreciative. But if you are looking for an anniversary gift with a gold theme, whether it is for your other half or another couple, here are a few inspirational (and creative) ideas to suit every budget.
Gold Flowers
Don't take this one too literally since solid
gold flowers
are not normally available from a local florist, but if you are shopping on a budget and need a gold-themed gift, a bouquet of gloriously golden flowers is perfect. Any flowers in a shade of bright golden yellow will do, but sunflowers, roses, daffodils and tulips are all beautiful: wrap up in gold paper and tie with a gold ribbon.
A Gold Eternity Ring
A
gold ring
is the perfect golden wedding anniversary gift. You can splurge on an expensive eighteen carat gold ring or go for something a bit cheaper if you prefer, but ideally, buy the best quality gold ring you can afford. In terms of style, there are many different types of ring to choose from. Modern rings are more likely to be appreciated by a younger recipient whereas traditional rings are always a good investment. If in doubt, look at your spouse's other jewelery and use this to help you make the right call as to the type of ring they will like.
A Gold Necklace with Matching Earrings
A
gold necklace
with matching
earrings
is never a bad choice for a gold themed wedding anniversary. Investing in two gold gifts is double the value and likely to be appreciated twice over. You don.t even have to spend a fortune if money is tight:
gold gifts
are available for budget shoppers and are often just as gorgeous as anything you might find in an expensive, upmarket jewelery store.
Gift Wrapped Gold Tickets
Looking for something gold-themed that is a bit different to the usual anniversary gifts? How about buying some tickets to a special event and gift wrapping them in gold paper with gold ribbon? Whether you opt for tickets to the opera, a musical, rock concert or a theatre production . as long as it has special sentimental value, with some gold ornamentation your spouse is sure to appreciate the sentiment.
A Trip to the Gold Coast
For those with deep pockets, a trip to the famous Gold Coast in Australia would make a wonderful
Golden Anniversary gift
. This part of Southern Queensland is stunning: miles upon miles of gold sandy beaches, surf, and lush greenery. You can spend your days soaking up the sun, shopping and having fun, and your nights eating out in top restaurants and enjoying the local nightlife. What better way to celebrate many happy years together?
Wives also love a gold dipped rose. You can buy natural roses that are dipped in 24 karat gold, which provide a striking gift that is surprisingly inexpensive, and lasts forever. You can buy quality gold dipped roses
here
.
Pick the right anniversary gift and mark the occasion in style, and if you need some more inspiration, check out our ideas section.
Articles