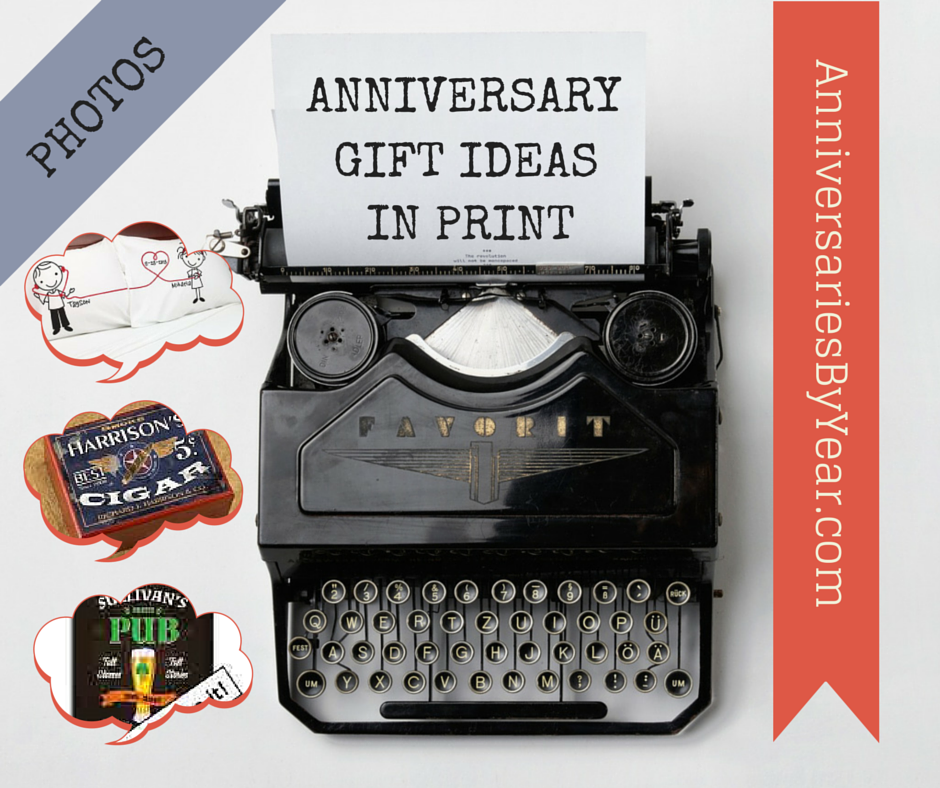 Anniversary gift ideas in print
Share this site with:
Facebook
Google+
Pinterest
By: Patrice Marrero
Sometimes, it can be hard to say how you truly feel. Take your anniversary as an opportunity to use your words to tell your partner in life how much they mean to you. There are so many textiles and materials that support the printed word, you can use
paper
, cloth,
linen
,
wood
, and the list goes on. Use your words, and your anniversary gift will provide sentimental value for years to come.
Paper
The
traditional gift for a first anniversary is paper
, and is a wonderful way to spread the word of love. You can go the classic route, and pen a love letter or poem for your special someone. Use
pretty paper
for your final draft, and consider spritzing a dash of perfume or cologne once you are finished. If your inner
Nicholas Sparks
is rearing its head, write more than one note, and mark the envelopes, "To be read when..." You can fill in the blank with times that your significant other may need a pick-me-up. Some that may work well are; when you've had a bad day at work, when you feel alone, when you had your best golf game, or when you just need a hug.
Cotton
Cotton is the traditional gift for second anniversaries, and you can easily embroider or use
screen printing
on a
variety of second anniversary gifts
. Monograms, cute pet names (for each other, not your actual dog or cat's names), or personal sayings are great additions to pillowcases. Your significant other will love the reminder of your bond each night as they fall asleep. If you want to be bold, you could add a personal touch to a set of cotton panties or boxers.
Other materials, besides cotton, can work great for these projects. For example, linen and silk provide a
modern theme for a fourth anniversary gift idea
. A
silk robe
, inscribed with a short love note, can be the perfect luxurious anniversary gift.
Leather
Leather bracelets
are trending, and the simple style of many of these accessories begs for an inscription. Use a leather stamp set, or a burning tool, to inscribe a simple love note, saying, or even your shared last name, for a traditional third anniversary gift.
If jewelry isn't what you're going for, you can do the same with a leather frame. Pick your favorite wedding picture, or write a love note, and add it to the frame, after you have used your stamp set to inscribe a special note, or your wedding date.
Metals
Jewelry is often used as a symbol of love, and rightly so. Many women yearn to receive jewelry as a gift, and some men, too. This year, you can use jewelry to convey how you feel, by adding words. Dog tags, like the ones military men and women wear, can easily be personalized with dates, names and special messages. You can use a metal stamping kit at home, or ask a jeweler to help you portray your feelings. When choosing a metal, consider your anniversary year. For example, the traditional sixth anniversary gift could include iron, and the modern or traditional
25th anniversary gift
could be made of sterling silver.
No matter what you choose, you can add a love note by giving your gift with a card. Many card companies create anniversary cards that help those of us who have trouble expressing our feelings with words. A simple, "I love you" can be the best anniversary gift around.
Articles